Solar Power: Difference between On-grid Inverter and Off-grid Inverter
Yes, solar power is indeed reasonable and hence, making it the greatest option for many homeowners nowadays. If you're one among those people who consider installing the solar inverter in your home, then go for it. A solar inverter converts the DC (Direct Current) power source into AC (Alternating Current) with the use of natural light or sunlight, and it is one of the most effective and environment-friendly power sources that anyone should buy.
Solarclue is one of the best platforms where people can buy on-grid and off-grid inverter as per their requirements at the shoestring budget. When it comes to the cost of both the type of inverters, on-grid solar inverter price and of-grid inverter price is available with cost-effective solutions at Solarclue.
When it comes to the on-grid and off-grid type of inverters, you may wonder what type of solar system to choose. In this blog, we are going to talk over the difference between the On-grid Solar Inverter and Off-grid Solar Inverter (on-grid vs off-grid). Let's discuss it!
On-grid or Grid-tie Solar Inverter
The on-grid or solar grid-tie inverter connects to the power grid of your particular electrical utility company that you use. This utility is considered your backup generator. A grid-tied or on-grid solar system includes a net metering agreement, which means when a consumer produces extra power when he or she uses more than the production, you can feed it back to the grid and receive a credit on your power bills for those times. The grid in a sense becomes your battery bank because you feedback your excess power for a credit, which is effectively stored for further use until you need it.
In other words, it means you feedback extra power in the summer and then use the credits in the winter when you need the power for your heating system. This is with the help of an on-grid solar inverter, which considerably inexpensive than buying and maintaining a battery bank.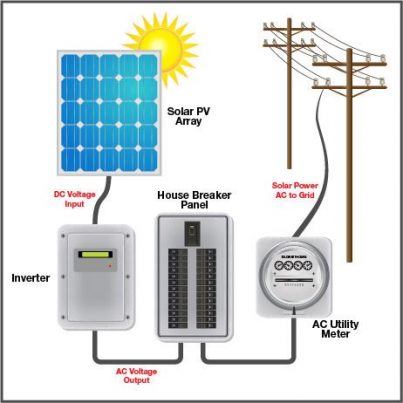 (Image Source: Indiamart.com)
Benefits of using On-grid or Grid-tie inverter
Easy battery backup facility and brings from grid power

Eliminates the usage of expensive batteries and generators (which require fuel to operate).

Provides facilities for seasonal storage if net metering is available

Maintenance-free for a solar power system (wind requires some maintenance and repair instead).

Internet monitoring available with on-grid inverters, designed to be used for individual solar panels

Helps you in providing clean energy to the grid

Simplest yet the most cost-effective system to install
Off-Grid Solar Inverter
The best off-grid solar inverter operates on your own, which means you have to produce, store the power all your own and if you run out you start up the battery backup generator. In the case of off-grid, there is neither power utility to fall back on, nor provides a power bill.
An off-grid inverter system stores the electricity that you produce so that it can be accessible for times when there is no source of electricity. This storage system of the off-grid inverter is one of the foremost features, distinguishing it from an on-grid inverter system. The other feature of the off-grid inverter is a backup option, even for long periods of cloud.
The two major components of off-grid inverters such as a solar panel array and a wind turbine are designed in such a way to provide electricity to run the appliances in your home. The power you don't need immediately is generally stored in the battery bank, and the battery bank is large enough to provide enough power supply at least three days without any solar or wind charging.
Consumers need to plan their energy use using a power analysis so that the charging system and battery bank can meet their needs. Heating your home in a cold climate in case of an off-grid system is present some challenges because some heating systems are expensive to operate with an off-grid system. For example, a geothermal system cannot run with off-grid power – the power requirements for the pumps are too large. Therefore, Passive solar design and an in-floor heating system are usually the best options for the off-grid inverter to operate.
Benefits of using off-grid inverter
Perfect for more remote areas where power is not available or expensive to bring in

Helps in offering no power bills

Provides the energy for your critical loads when the power grid is down or no power outages

Able to supply its power on a clean, renewable energy source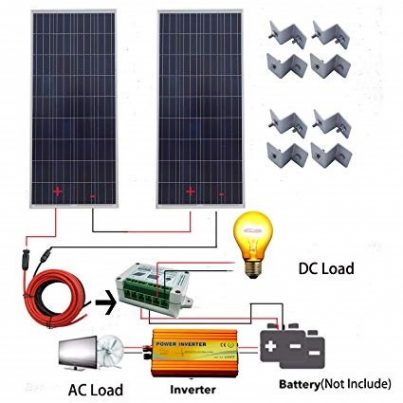 (Image Source: Amazon.com)
In addition to this, here are the differences between on-grid and off-grid types of inverters stated in the tabular format.
| | | |
| --- | --- | --- |
| | Grid-Tied Inverter | Off-Grid Inverter |
| AC In | Yes | No |
| AC Out | No | Yes |
| Grid power is mandatory for grid management | Yes | No |
| Shuts down when the power grid is miserable or down | Yes | No |
| Anti-Islanding Protection | Yes | No |
| Energizes loads during grid failure (black out) | No | Yes |
| Connected directly to the power outlet | yes | No |
| Feeds the entire generated power to the grid track | Yes | No |
| Local electric companies buy surplus power | Yes | No |
| Overload Protection | No | Yes |
| Inverter Cost | High | Low |
| Full Setup Cost | Low | Very High |
| Grid Billing | Yes | No |