Solar Motion Sensor Security Light with Siren
What is Motion Sensor Security Light?
A motion sensor is a small electronic device that detects infrared energy or body heat that radiate from moving energy and sunlight gets them charged all day and night. Saving energy whilst performing all our activities is what we want to achieve. One such way of saving energy is the use of solar motion sensors.
Solar Motion sensors are the best way to utilize the solar lights. They are an eco-friendly way of illuminating the outdoor areas of your home at night or any pedestrian or streets. Outdoor lighting is an important part of your home, providing security and peace of mind. These motion lights are cheap, easy to install, and versatile because it is powered by the sun which does not require wiring and is available in abundance. Solar Motion Sensor Light is the perfect solution for farmhouses, stairs case and parking lots where light is needed only during human movement. A feature of the siren can also be added to make it a security solution and have a safe environment.
These lights can detect movements in a radius of up to 120 degrees and 30 feet and once it lights up, it stays on for 20-25 seconds. We all want a safe and sound environment and one such way to achieve it is installing motion sensor security light to catch the intruder off-guard. This device is an inexpensive way to safeguard your property.



How do they work?
Ideally, these motion sensor lights are placed outside your house, 6 -7 feet above the ground, so that it can cover all the spots of your house. These sensors consist a small lens that detects rapid changes in heat or movement. These sensors absorb sunlight during the day and convert it into energy to further power up LED lights at night. They usually come with Passive Infra-Red (PIR) sensors which are configured to automatically light up when they detect any infra-red heat motion within their sensor range. A feature of sirens or alarm can also be added to these sensors to catch any intruders. If there is no more movement detected for a certain period of time, the lights go off.
What are the benefits of motion Solar Lights?
1. Waterproof and durable
2. Charges from sunlight available during the day and stores energy well
3. Conservation of energy
4. Easy to install
5. Small, compact and easily portable
For Solar powered motion sensor security light, Solarclue offers a great value for the money and provides Solar Garden & Exterior Light with motion sensor. These sensor comes with 3W Super bright LEDs, 2 Wp with integrated solar panel. Builtin SMF Battery – 4500 mAh and PIR Motion Sensor. You can always grab them under 6000 or even more.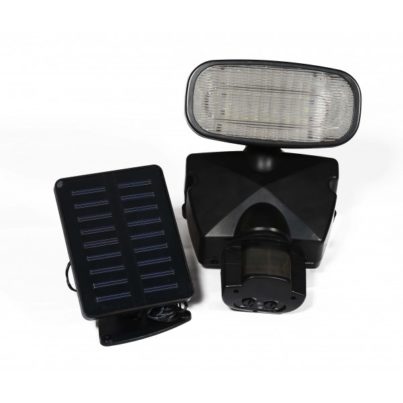 To grab this from solarclue, Click here