Gas Cooker vs Electric Cooker
Why Electric Cooker is the need of the hour?
There is a new kitchen gadget popping up every day. They're all shiny, they all serve a purpose, and they're all very tempting. If only I had a 1,000 square foot kitchen, all my dreams would come true. Or at least my kitchen dreams.Since many people aren't familiar with the Electric Cooker, I wanted to compare it to a similar (yet very different) small appliance, the Gas cooker.
Gas or electric cookers: which is cheaper to run?
Your choice of gas or electric cooker is likely to be influenced by your previous experience of cookers, what your kitchen is already set up for and your own personal cooking preferences. If you use an electric cooker, you'll use fewer units of energy but, because electricity costs more than gas per unit, this will still end up costing you more. If you use your cooker for an average of five hours a week, our tests have found that you will pay on average just 1300 Rs a year for a gas cooker and around the 3000 Rs. mark for an electric cooker. When it comes to buying the cooker, all-gas models are usually a little cheaper upfront, too.
Of course, it's not just about cost. Both gas and electric cookers have their own pros and cons when it comes to cooking and preparing food. You can see the main differences below.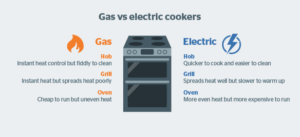 There are many issues related to gas cooker.Some of them are as follows:
Less-even heat distribution in the cooker: You usually won't find fans in gas cooker, which makes it harder for the heat to circulate evenly around the cavity. This means that a gas oven will usually be hotter at the top than at the bottom. Some people like this temperature gradation, which you can use to your advantage when cooking different dishes at the same time, but it can make it tricky to get batches evenly baked.

Hobs can be slow to heat up large volumes: gas hobs are generally slower than electric hobs – especially electric induction hobs – to heat up large pailfuls of food. So you may find yourself hanging around a bit longer to get your dinner going. Can be trickier to clean: gas hobs, with their raised burners and pan supports, are more fiddly to clean than flat ceramic or induction hobs, as there are more dirt traps for food to get stuck in.

Maintenance: Often you have to change the rubber band(Gasket)on the cooker regularly so that it will not leak the required pressure gas which is supposed to be maintained in the cooker and sometimes pressure regulator tends to get blocked after a course of time.



There are many features in electric cooker which makes it better than a gas cooker.Some of them are:
More-even oven temperature: electric cooker tend to offer more-even heat distribution throughout the oven cavity, as most have fans to help move the hot air around. This means it's easier to achieve consistent results, especially when baking large batches. However, we have found some shockers in our time, so make sure you check our reviews before buying to avoid the poorer models.

Multi-function cooker: some electric cookers are a multi-function. This means that you can cook using different heating functions simultaneously. For example, you can use the grill and fan at the same time, which can work well when a less-fierce heat is useful, such as when grilling a thicker piece of meat.

Easy-to-clean hobs: The cooking surface of the hob will be flat. This will take less effort to clean than the burners and metal pan supports on a gas cooker. And if your hob has touch controls rather than dials, there's even less scope for grime to get trapped.

It comes with the spatula and measuring cup to accurately measure the amount of stuff a user wants to cook so to avoid wastage of food.

It also comes with 2-year warranty card and a thermal fuse is given so that it automatically switches off and prevent the users from overcooking.In turn, it saves your electricity.

It comes with a warm mode also which helps the dishes to be warm and soft if you want to eat your item late.

Better grilling: over the years, various tests have shown that electric grills tend to do a better job of browning food evenly than gas grills do. Not every electric grill is great, but they generally tend to outperform gas models.
There are many factors which depict or prove that electric cooker is the need of the hour and every modern cooker should have.If you choose to have a multi-function cooker in your kitchen then it just adds to the quality of the kitchen.
To have this awesome appliance click here Buy Now