Top 5 Solar Panel Manufacturers in India
As far as installation of a solar panel for home or office is concerned, a very common question comes to everyone's mind, i.e., which one is the best solar panel manufacturer in India? To answer this question, we have taken into account certain factors such as Pricing, High Efficiency, Installation Capacity, After Sales Services, and Subsidies, as there are hundreds of solar panel manufacturers out there in India.
It's really hard to narrow down a list of the best solar panels or list of solar panel manufacturers, suitable for you. But then, it is important to choose a brand that you trust. In this blog, we are going to list the top 5 solar panel brands in India that will help you to decide the best manufacturer.
1) Vikram Solar:-
Vikram Solar is one of the oldest and best solar panel companies headquartered in Kolkata, West Bengal, India. Established in 2006, Vikram Solar is serving its clients across India with a worldwide presence in more than 6 continents. Vikram Solar is a part of the Vikram Group of organizations and a maker of PV solar modules, having experience of over four decades in engineering and manufacturing activities.
Reasons to select Vikram Solar panel are as follows:
4 GW+ of solar panel shipped globally and 1,355 MW+ dispatched in India

2 GW of the annual production capacity

Vikram Solar panel price is reasonable

Works for Households using distributors' network

PAN India level and worldwide network
2) Waaree Solar:-
Waaree is one of the leading solar panel manufacturers in India, which has India's biggest Solar PV Module fabricating limit of 1.5 GW's at its plants in Surat and Umbergaon in Gujarat. Established in 1989 with the central station in Mumbai, India, Waaree Energies is engaged in offering EPC services (Engineering, Procurement, and Construction), venture advancement, housetop solutions, Lithium-ion Batteries, Project Development, and solar water siphons.
Reasons to choose Waaree Solar Panel:
30 years of industry experience

Wide range of products to choose from

AMC (Annual Maintenance Contract) service for the long life of solar panels

30% of Internal Rate of Return or IRR

Worldwide service network
3) TATA Power Solar:-
TATA Power Solar is a market leader and a trusted brand of solar panel manufacturers in India (best solar panel brand in India). TATA Power Solar is committed to providing efficient solar panels that are affordable and sustainable for the use of even the common individuals. It offers innovative solar panel solutions as per the requirements of individual clients, corporations, expansive foundations, and networks.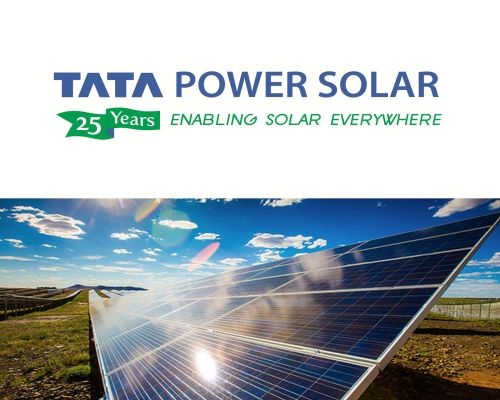 (Image Source: Cleanfuture.co.in)
Why choose Tata Power Solar panel?
Huge trust of the brand name "Tata Group"

29 years of services in solar industry

4 GW modules solar panels shipped outside India & 1.5 GW production capacity for India Only

25 Years of module warranty
4) Luminous:-
Luminous is one of the well-known brand names in solar panel manufacturers in India, and providing a wide range of products including, Fans, Modular Switches, LEDs, and so on. In addition to solar panels, Luminous also deals in complete ranges of products such as PV Panel, Solar UPS, Solar Battery, Solar Controller, etc. Luminous has more than 30 years of experience as a main power solution supplier, which is successfully providing end-to-end Solar Solutions for residential and small commercial establishments.
Why select Luminous solar panel?
Provide loans for solar buying solar panels

Use Solar Calculator to check the exact investment

Lifetime service support from Luminous
5) Adani Solar:-
Adani Solar is a renowned name in the solar industry and it has India's 1st Automated Solar PV (PhotoVoltaics) manufacturing unit. Known as the subsidiary of Adani Group of Companies, Adani Solar is capable of reducing the manufacturing cost of solar panels. In 2020, Adani Solar was the winner of the Golden Peacock National Quality Award. Adani is only one of the top solar panel manufacturers in India and a preferred choice for PV panels with the "Made in India" brand at a global scale.
Causes to choose Adani Solar:
The lifespan of solar panels is 25 years even in extreme weather conditions.

Market leader in R&D of several models of solar panels.

PAN India service and undergoes 3 EL (Electrode Impedance) check to ensure crack-free PV Panel Manufacturing.
Factors that consider any Solar Panel good
Certain factors are there to help you to ensure how well the panels can work and what protection you can have in case they don't. Have a look at the list of factors:
Warranties – A complete warranty lasting years. This not only gives customers confidence but also shows the confidence to the manufacturers of solar panels have in their product. There are two categories of warranties; one is the product warranty and the second is the linear performance warranty (guarantee from the manufacturer that your panels will stay above a specified degradation rate over a certain period).
Price – The price of the solar panels is another factor for which 99% of people looking to go for solar (higher-quality panels will cost more, but at the same time they may save you more in the long run).
Module Efficiency – It is a measure of how much energy the solar panel produces from sunlight. Modular efficiency is important, if you have less space for panel installation, as opting for more efficient panels could mean needing fewer panels in some of the cases.
Reviews – This is the third most factor for considering a solar panel as a good one. It matters what others are saying about the brands of solar panels.
Last Thought
The above-stated solar panel manufacturers or brands in India are the best to fulfill all your solar panel requirements. All of these solar panel manufacturers in India are 100 percent genuine and available to buy at solarclue.com. Don't think much and place a request or installation of solar panels online with SolarClue.