Know About the Five-Point Checklist Before You Finalize Your Rooftop Solar System
The popularity of the Rooftop Solar Power System is increasing worldwide as several have purposefully designed a sustainable solution that replaces the conventional electric power system to develop sustainability in the ecology. In India, the Government launched National Solar Mission (NSM) as a key initiative in the year 2010 to promote sustainable ecological growth while solving for the country's energy security. Solar energy or solar power is one of the fastest-growing industries in India, and a study reveals that this particular industry has grown 33 times in the last 10 years (from 1.2 GW in 2012 to 40 GW in 2021).
If you are interested in buying a solar rooftop system for your home or business, a few things you need to consider. Some certain checklists or parameters will help you decide on choosing a sustainable and eco-friendly solar power system for your rooftop.
Here is a buyer's five-point checklist to be considered before putting your money on a rooftop solar system.
1. Condition of your Roof:
It is the primary factor to double-check your roof before you decide to buy a rooftop solar power system. If you're a potential buyer ask yourself a question, whether your roof takes the extra load of the solar system or not? If your roof is made up of reinforced cement concrete (RCC), which means your roof is perfect and you may go ahead to purchase a rooftop solar system online (a typical solar system with a mounting structure weighs about 10-20 kgs per square meter). It is advisable to have a professional inspect your roof.
Another important aspect you need to check is whether any obstruction is leaving its shadow on your roof for a major part of the day? It is highly recommended that solar panels must be placed in a specific way (needs to be placed facing south) on the roof so that it will not get affected by any shadow and generate maximum power during the day. Make sure you clear these things when solar developers offer free site surveys. In addition to this, you need to check the wind load like can your roof withstand all seasons? Make sure your solar power system tolerates the prevailing wind load of your geographical region and also deals with harsh weather conditions such as lightning storms, hurricanes, and hail.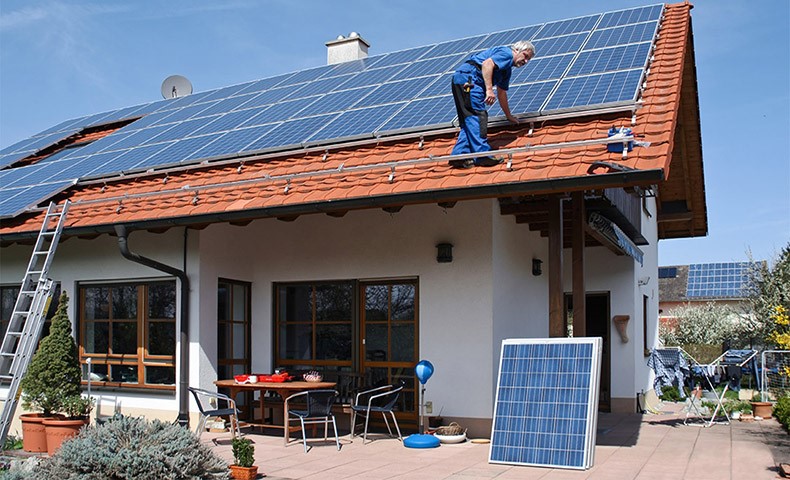 (Image source: Hahasmart.com)
2. Check the Insurance of Solar System:
It is essential to ensure the right insurance policy to cover if any damage happens to the electrical and mechanical equipment of your power system during the installation. Several potential problems can arise during the installation of your solar panels, which you may not notice until they occur. For that reason, it is always wise to ask the service providers of any such insurance or whether the proposal includes the product insurance as well before purchasing and installing the rooftop system. Insurance will protect you in such scenarios and save you from spending extra money on repairing the entire system.
3. Check for Subsidy that your State Provide:
Since the effort to make the people aware of sustainable products, both central & state governments are providing attractive subsidies as well as paying a part of the price that you pay to the developer on the installation of the solar power system. Make sure the best solar system you wish for buying is empaneled by the subsidy provided by the state/state utility company (DISCOM) before you hope that your government pays a part of your solar installation charges. However, the government does not always allow a subsidy when it comes to battery-operated or off-grid solar systems and that too subsidy is available only when you install a solar system on your home or domestic purposes, not on commercial or industrial sectors.
Generally, a subsidy of 40% of the standard price is offered on the purchase of a power system for up to 3kWp system capacity, and 20% of the benchmark price is provided for the system with capacities from 4-10kWp. Apart from this, another advantage is that the solar developer will provide 5 years of performance warranty as well if you install a solar system through a subsidy scheme.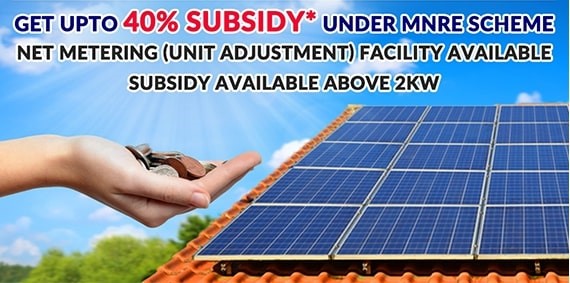 (Image source: Kenbrookesolar.com)
4. Check the Warranty Management of your Solar Rooftop System:
A solar rooftop power system is made up of a lot of various components such as solar panels, inverters, mounting frames, and electrical components manufactured by different companies, hence, the different parts of the system come with individual warranties.
Generally, the solar panels come with a manufacturing warranty of about ten years that covers manufacturing defects during that period, and security on performance warranty that the manufacturer provides that guarantees may go up to about 25 years.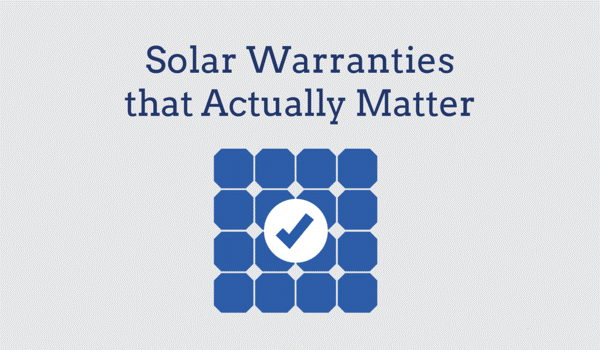 (Image source: News.energysage.com)
5. Check the Maintenance Packages
Proper maintenance is essential to keep your portable solar power system functional and in good condition for long period. Make sure you get to know the maintenance procedures from your solar developer before the installation begins, because your solar plant may not last for its complete lifetime if your system does not meet those maintenance requirements. Although, the warranties for the installed system will not be able to cover your poor maintenance. Therefore, you can ask your developer about the Annual Maintenance Contracts (AMCs) regarding any such maintenance packages that will ensure preventive maintenance and periodic cleaning of solar panels.
Final Say
Investing in a rooftop solar power system is not a cakewalk as it requires careful planning and excellent research before you finally decide to install it. With the above-mentioned checklists, you will have certain clarity before deciding upon getting a rooftop solar system, and these parameters will enable you to get a chance at a lifetime supply of free electricity at minimum recurring expenses.