Need for SOLAR LIGHTING SYSTEM in every home?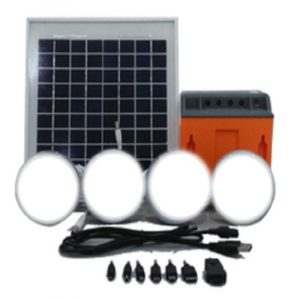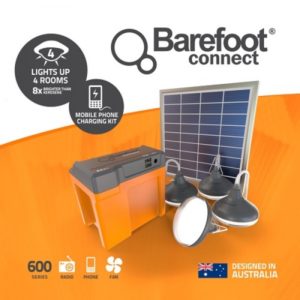 Bring home BAREFOOT CONNECT SOLAR HOME LIGHTING SYSTEM and reduce your electricity bill to maximum at just 7777/-
Barefoot products are an exquisite combination of modern technology and high-end engineering process.Barefoot connect 600 is completely solar-powered lighting and phone-charging solution.The Barefoot Connect 600 includes four bright LED lamps, charger controller, and 6 W panel. The product is designed to light up the home for the whole family, even the entrance to their homes. With a bright light, families can enjoy the activities together, kids can have longer hours to study, charge a mobile phone, listen to the radio or just cool off in front of a fan. The whole family can enjoy a meal at night together under this solar light.
The high-tech controller contains a maintenance-free battery that is protected from the environment and from tampering.  The controller maximizes the battery life via four-stage charging and multiple protection circuits while the LED indicators to show how much energy is left in the battery.
This plug and play system comes with wiring clips and wall-screws for a neat and easy installation that doesn't require an electrician.
Product Highlight:
The Barefoot Connect 600 is a solar-powered lighting and phone-charging solution. It provides light and charging power for your family home, shop or clinic.

Simple plug-and-play installation does not require an electrician or trained service person. All necessary components are included for a fast, neat and easy installation.

A high-tech controller extends the life of your battery and provides constant power through the USB and 12V outputs.

The four bright LED lamps can light up four rooms at once providing light for studying, socializing or income-generating activities.

Two USB outputs allow charging two phones or devices at once, keeping you and your family connected and contactable.

Barefoot Power provides a 24-month warranty on all Connect systems and components.
| | | |
| --- | --- | --- |
|  Battery | Solar Panel | Run Time |
|  12V, 4Ah | 6W | 4 Lamps 6 Hours |
SolarClue offers the best price in the market or money back guaranteed. For purchasing Click Here