Why to buy BAJAJ NON-STRIX KETTLE?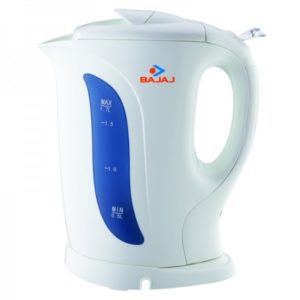 Bring awesomeness The Electric 1.0 Litre Non-Strix Kettle from Bajaj at just 1070/-
The Electric 1.0 Litre Non-Strix Kettle is a perfect device for those who are always on the go and don't have time on their hands. It is a crucial requirement for most home, offices, and hostel that require cups of tea and coffee at frequent time interval.
This 1L electric kettle is designed to be quick, safe and convenient to use and is the best choice for boiling water.The users can use this kettle for multifunctional purpose by boiling eggs and making Maggie etc in quick time The device is portable and can be carried anywhere.
There are many features of this kettle which make it the best choice. Some of these features include the following:
Bajaj Electric 1.0L Non-Strix Kettle is ergonomically designed for comfortable handling and ease of use.

It also features a micro grill convection combo to further enhance the usability.
It offers cordless operation while serving. It also consists of an auto shut feature which saves energy.
It comprises of a detachable strainer to ease out the cleaning purposes. The spout ensures convenient pouring.
The Bajaj cordless 1-liter

electric kettle comes with an uber cool body and an easy to open for convenience

in handling

.

A switch cum indicator which is self-illuminated

that shows the proper functioning of this kettle and

also ensures

protection for the users.

A water level indicator is present on both the sides so that the water level can be seen from both sides.
The appliance automatically switches off when the water level is low to avoid dry boiling and kettle overheating.
The power needed by this device for proper functioning is 230 V.
This appliance has a power consumption of 1300 W.The device comes with a warranty card and with a user manual for proper guidance.



For purchasing awesomeness    Buy Now