Solar Water Heater in Bikaner
Solar Water Heater in Bikaner is one of the cheapest and renewable devices available for heating water for various purposes like bathing, washing, cleaning, etc. using solar energy. The solar heater is very popular because of the immense benefits as it can reduce the annual energy costs related to heating than your existing storage water heaters. Solar devices such as solar water heater is a blessing to the environment we are living in.
A Solar Water Heater is a device that gives you hot water by using sunlight. Users can easily install it on their roof or terrace where the sunlight comes properly, and with this solar energy, the solar water heaters heat the water during day time, which is then collected in an insulated water tank to use maximum for 2 days.
Buy Solar Water Heater in Bikaner
Solar water heater price is reasonable at SolarClue – a trustworthy platform to get your preferred one. We, at SolarClue, offer a wide array of water heaters, which are operated using solar power system technology. You can get to buy the best solar water heater in Bikaner with portable sizes at SolarClue and even online.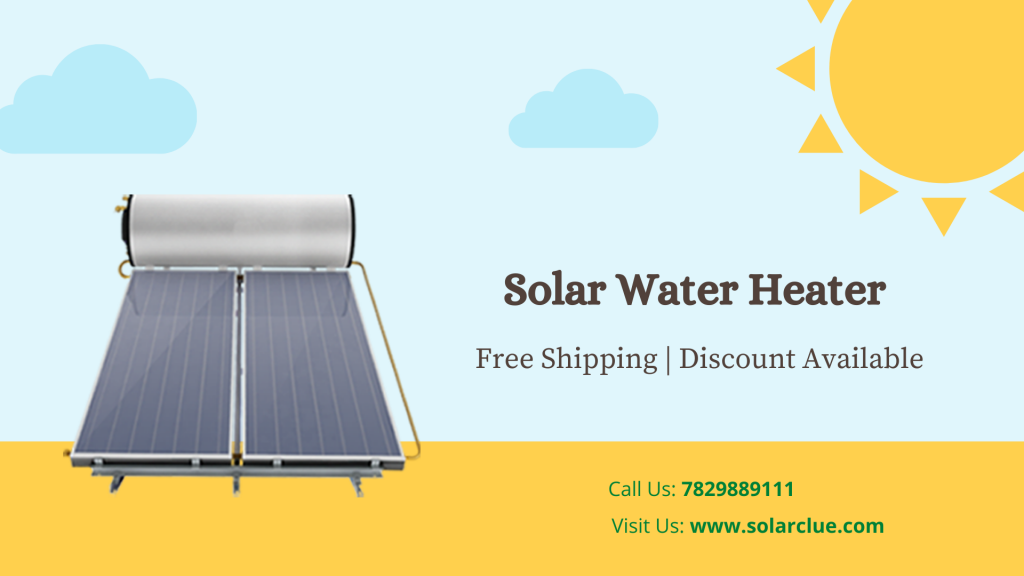 Solar Water Heater Price 
Pricing of a solar water heater varies from one brand to another as there are several brands available with SolarClue. When it comes to the price of the solar heater, the quality of the product, its durability, and reliability are three important things that do matter for customers. After analyzing such factors, people are only able to find the solar water heater price list from different brands. There are different types of solar water heaters on SolarClue, and according to that cost decides. Individuals who are interested to buy solar water heater can even compare the price as per different manufacturing brands and select the best one which suits their budget.
| | | |
| --- | --- | --- |
| Capacity (Liters per day) | Cost of ETC System (in Rs) (Price starts at) | Cost of FPC System (in Rs) (Price starts at) |
| 100 | 12,000 | 16,000 |
| 150 | 15,000 | 20,000 |
| 200 | 17,000 | 25,000 |
| 250 | 20,000 | 27,000 |
| 300 | 25,000 | 35,000 |
| 500 | 38,000 | 49,000 |
Why Choose Solar Water Heater with Solarclue?
We, at Solarclue, are one of the trustworthy yet fastest-growing solar company

Products are cost-effective and reliable and eco-friendly

Wide distribution network and prompt delivery schedule

Customer-centric approach

Completed 1750+ projects and delivered 2000+ orders
FAQs
1. Does Solar Water Heater work on cloudy days?
A Solar Water Heater works even on cloudy days. On cloudy days there is usually some radiant heat available in the atmosphere to heat water though this to a lesser extent compared to a sunny day. An electrical back-up heater can be provided to further heat the water to the required temperature. Click to know more.
2. How to select solar water heater with right capacity?
The type of solar water heater you should install and the capacity required depends on Number of family members, Size of Home/Flat, Climatic conditions and some others factors.
3. How do you decide about the size or capacity of the solar water heater to be installed?
100 liters per day capacity system should be sufficient for a house with one bathroom and 3 to 4 members. The capacity will increase for more numbers of bathrooms and accordingly due to pipe losses & the number of family members. Generally, the capacity is decided based on hot water required for your usage in a day. Moreover, you may want to choose a tank that is 80 gallons or larger to ensure that your solar water heater is large enough for your family.
4. What are the different types of solar water heating systems?
A variety of solar heating systems are available in the market but most can be characterized in the following categories:
Based on collector type: ETC/FPC

Based on pipe and system pressure: Pressurized/Nonpressurized

Based on system construction material: SS/GI
5. How much does it cost to install a Solar Water Heater?
The cost of any solar water heater (varies between Rs. 15,000 to Rs. 20,000 per 100LPD of installed capacity) depends on its size and type of solar heating system installed. The cost, however, does not increase; rather it comes down proportionately as we go for a higher capacity system.
At Solarclue.com, we are committed to supplying and installing a comprehensive range of solar products on varied Brands. There are several categories of solar equipment designed to harness the sun's energy and convert it into the electricity that your home or business uses. Solarclue allows you to buy whether solar panels online, buy a solar water heater in Bikaner, buy solar water heater online, solar street light online, or any other solar products online even from their locality.
Solarclue is one of India's best online platforms of solar energy products. This platform is capable of providing an extensive range of solar products with a combination of leading Manufacturers, Suppliers, and Dealers. And, the price of its products whether solar panel price, solar water heater cost, or solar geyser price are available in diverse ranges to meet your budget requirements.
Explore the site, Solarclue.com, if you're looking for a solar water heater in Bikaner!
Explore Our Products