Solar Water Heater in Surat
Surat is a city in the western Indian state of Gujarat. Located at the mouth of the Tapti River, it used to be a large seaport. Popularly known as the diamond city of the world, Surat is a hub for diamond cutting and polishing.
Solar Water Heater in Surat
Solar Water Heaters are used in capturing sunlight to heat water and to provide hot water without consuming expensive electricity. Solar water heater is a device that generates hot water naturally and even saving your electricity cost. It is also an environment-friendly yet best solar water heater and an economical way to generate hot water for shower and bath. As far as the cost of this particular product is concerned, the solar water heater price or solar water heater cost varies from its model and capacity.  
A solar water heater is one of the foremost category of solar energy appliances capable of saving substantial energy as solar power is free in contrast to natural gas or fuel oil. Long operating life, low in maintenance cost, high quality extra thick stainless steel inner tank, and high energy yield & low heat loss are the lucrative features of solar water heaters. 
Want to know more about solar water heaters and types of solar water heaters, Click here. 
Solar water heater price is reasonable at SolarClue – a trustworthy platform to get your preferred one. We, at SolarClue, offer a wide array of solar water heater in Surat, which are operated using solar power system technology. You can get to buy the best solar water heater in Surat with portable sizes at SolarClue and even online.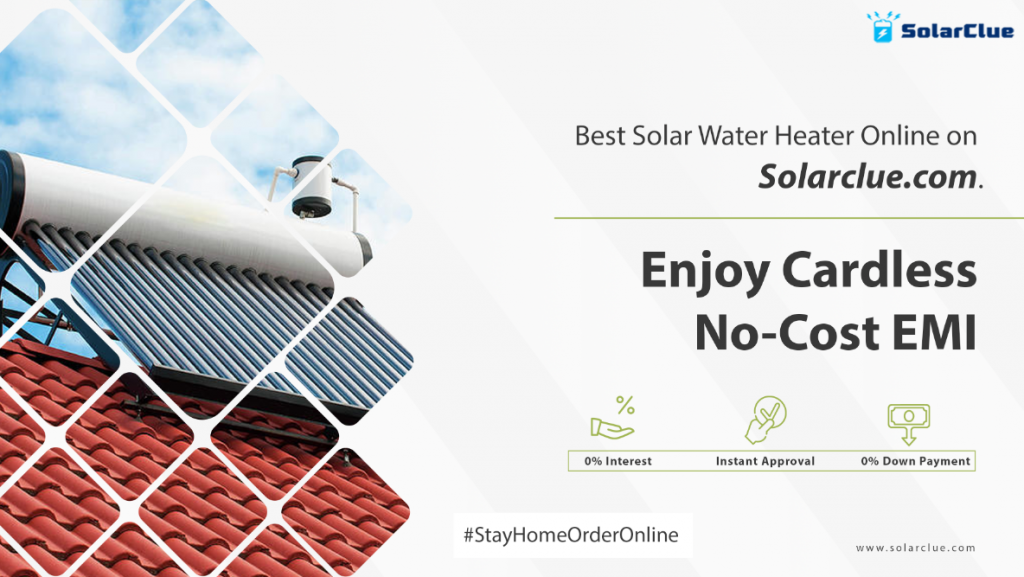 How to Book Solar Water Heater on Solarclue
Selecting, purchasing and installing your solar water heater according to your requirement sometimes becomes monotonous and difficult. You need to search for a local dealer in your area who most of the time has less technical information/knowledge on the product and will suggest to you the product in which their benefit is more.
SolarClue is an eCommerce platform where you can select a solar water heater from your choice and requirement, you can even book the product by your own and we take 2-3 days to deliver the product with free installation. 
Don't worry!! it's very easy to purchase a solar water heater in Surat at Solarclue, Tap to know more. 
Solar Water Heater Price 
Pricing of a solar water heater varies from one brand to another as there are several brands available with SolarClue. When it comes to the price of the solar heater, the quality of the product, its durability, and reliability are three important things that do matter for customers. After analyzing such factors, people are only able to find the solar water heater price list from different brands. There are different types of solar water heaters on SolarClue, and according to that cost decides. Individuals who are interested to buy solar water heater in Surat can even compare the price as per different manufacturing brands and select the best one which suits their budget.
Capacity (Liters per day)
Cost of ETC System (in Rs)

(Price starts at)

Cost of FPC System (in Rs)

(Price starts at)

100
12,000
16,000
150
15,000
20,000
200
17,000
25,000
250
20,000
27,000
300
25,000
35,000
500
38,000
49,000
Why Choose Solar Water Heater with Solarclue?
We, at Solarclue, are one of the trustworthy yet fastest-growing solar company

Products are cost-effective and reliable and eco-friendly

Wide distribution network and prompt delivery schedule

Customer-centric approach

Completed 1750+ projects and delivered 2000+ orders
The Top Solar Water Heater Suppliers and Dealers in Surat
SolarClue is a top-class B2B and B2C online marketplace indulged in offering a broad range of solar products such as Solar Components, Solar Lights, Solar Inverters, Solar Appliances, Solar Power Systems, Solar Panels, and Solar Batteries. These devices are very affordable at this platform that anyone can purchase it.
Are you looking for a solar water heater in Surat? Are you searching for a solar energy equipment supplier in Surat? If these are the cases, you should visit solarclue.com to find the best solutions. This platform is well-sufficient to help you in getting the best solar water heater in Surat, including several other products' companies. 
Explore our range of products