Rooftop Solar Panels: Worth The Investment and Factors of Installation in India
Yes, it's indeed a fact that solar panels are worth investment and save you a lot of money in the long run. When electric bills are pressure on your monthly budget, especially during periods of heavy usage, install rooftop solar panels for home – an easy way to lower your electricity costs. As solar panels absorb sunlight and convert it into electricity, so you are not that dependent on a utility company to power your home.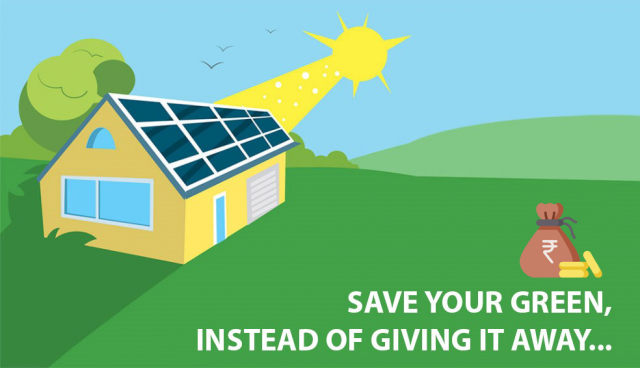 (Image source: Brittonearth.com)
When the entire globe has been adopting renewable power at a rapid rate, India is not behind in emerging in the global arena as a primary producer of renewable energy. The government has set a target to achieve 175 GW of renewable energy installed capacity in its efforts to move towards sustainable development and a greener environment. Out of this, 100 GW is the target set for rooftop solar panel installations by the end of 2022.
Are rooftop solar panels/rooftop solar power systems a good investment for you? Yes, several important reasons further draw attention to the benefits of installing solar rooftop panels or solar rooftop plants in India.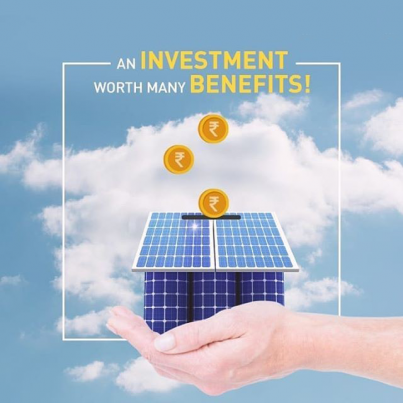 (Image source: Fi.pinterest.com)
A secure investment
It is difficult to calculate the expenses on electricity, for a certain period because the prices of electricity fluctuate from time to time. On the other hand, when it comes to electricity generated by solar rooftop systems, it's possible as the price of power generated can be calculated, (calculate the cost of electricity generation for another 10 years). Thus, investment in rooftop solar systems is a secure investment.
Support from the government
The government in India offers tax credits to encourage people to adopt solar energy and to both the domestic (residential solar rooftop) and viable users (commercial rooftop solar panels) who install rooftop solar panels. According to the Ministry of New and Renewable Energy, the Indian government provides 30% of the installation cost of rooftop solar PV systems as a subsidy to the installer. 
Suitable for Indian climate
India is situated at an ideal geographical location, and hence it receives an ample amount of sunlight (almost 300 sunny days with clear skies each year in India). Thus, rooftop solar systems are ideal to use in India by utilizing sunlight to convert it into electricity.
Require no additional space for installation and Low maintenance cost
Rooftop solar panels (on grid rooftop solar system, of grid rooftop solar system) can be installed on any type of roof, so people don't need to vacate land to set up rooftop solar panels or rooftop solar systems in India, and the panels offer protection to the roof of the building in which they are installed.
Another important factor about the best rooftop solar panels is that they require very little maintenance as they come with a service life of over 20 years if maintained properly.
Financial benefits
We as Indians believe in saving money for the future and this reason, we generally try to invest in bonds, shares, SIP, and many more that assure long-term benefits, and investing in solar systems is one such modern way of saving your money. When you install a rooftop solar panel in your building, you will be able to generate free power for your rooftop solar power plant's entire 25+ year lifecycle. And, solar will reduce your utility bills even if you don't produce 100 percent of the energy you consume. This way, save a lot of money. To get the best financial benefits by installing a rooftop solar panel, do not forget to contact SolarClue, whose experts will help you to obtain maximum benefits of solar rooftop system.
Final Say
Considering buying a solar panel system but don't know anything about solar? Need more reasons to go for a solar system? For this, you first of all need to have a solar installation company come out to assess to determine if you stand to benefit from solar panels. Get in touch with Solarclue.com, one of the leading solar rooftop companies, experts will help you to find the best match as per your needs and at the PAN India level.
The rooftop solar installation company offers a complete solution for a rooftop for both commercial and residential solar PV installations. Contact our team with your latest electricity bill, and you just need to sit back, our engineer will visit your site, and they will take care of the complete solar rooftop installation for the home. We also help to arrange finance like loan facilities for large industrial projects having on board the investors.