V-Guard: Dominates the India Solar Water Heater Market
V-Guard is the market leader in the Indian water heater market and is projected to remain the largest selling water heater category by 2023. Among different water heater types, V-Guard solar water heaters are playing a dominant role in the industry due to their technological advancements such as in-built programmable timer, coupled with rising demand for low-cost, high-quality, energy-efficient, and tank fewer water heaters.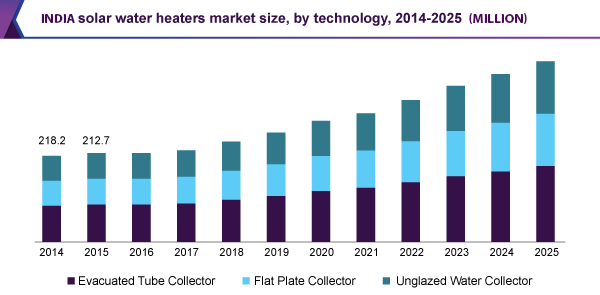 (Image Source: Grandviewerresearch.com)
The Kochi-based top solar water heater company, V-Guard has impacted a very good position even in the lockdown period of Covid-19. The solar water heating devices on their brand are moving at a fast pace since people are at home during the lockdown. The share is going up as this strategy has come in handy for those commercial companies at a time when high-end discretionary spending is slow.
One more important reason for V-Guard's success in the solar water heater industry is its focus on getting a larger share of the North Indian market. According to V Ramachandran, COO of V-Guard – "North and east are markets where we have been able to achieve particular success. Our margins, profitability, pricing, and market position is getting slowly closer to what we have in the south". In states like Uttar Pradesh, selling v-guard water heaters is doing extremely well, but metro markets like Delhi and NCR are more competitive. Both North and South India together account for 40 percent of its sales, and V-Guard is predicted to cross that limit in the next 3-4 years.
Are you looking for the best solar water heater for home in India? If yes, choose Solarclue.com as your buying destination where you can get the most effective water heater on the V-Guard brand that lets you conveniently heat water for fulfilling a range of purposes, mostly bathing and washing. V-guard water heaters or solar geysers come in two types of portable solar water heaters, such as instant geyser (1 to 3 liters of water storage capacity for dishwashing and washing hands) and storage geyser (a capacity up to 15 liters best for bathing and doing the laundry).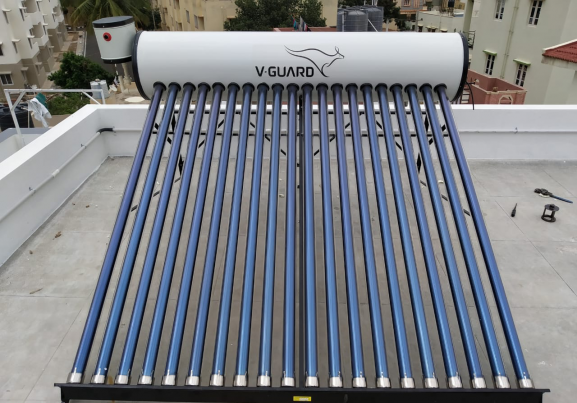 Some of the features of V-Guard Solar Water Heater are- made from high-quality mild steel on the outside featuring an anti-corrosive powder coating and strengthened steel on the inside, employs a hi-tech thermostat that ensures precise temperature regulation as well as an automatic cut-off ability when the temperature exceeds normal levels and supports a multifunctional valve that optimizes pressure.
Advantages of V-Guard Solar Water Heater:
4-star energy-efficient V-Guard products.

Backed by triple warranties like, 5-year on the inner tank + 3-year on the heating element + 2-year on the product and V-Guard Solar Water Heater service.

Charming, minimalist classic design and Automatic power cut-off.

Free of cost solar water heater installation across the country.

Magnesium sacrificial anode & Temperature control dial.
About V-Guard solar water heaters' in India
V-Guard has been doing well with the geysers or water heaters that it offers, and currently, V-Guard has a total of 54 geysers that are available to buy online. Some of the popular models on V-Guard are V-guard Sprinhot geyser, V-guard Pebble water heater, V-Guard Safeflo, V Guard Krystal plus, etc.
V-Guard (one of the noted manufacturers, suppliers, dealers, distributors) has the exact answer to your question, like buying an instant water heater is not as wise as buying a storage one, as the instant V-guard geysers have a good storage of up to 15 liters even on instant type models. Some of the V-Guard instant solar water heaters have a 5-star energy rating, which gives the buyers all the good reasons to buy and use them. Moreover, subsidies provided by various state governments for installing solar water heaters even on V-guard brand coupled with rising consumer awareness to fuel India solar water heater market through 2023.
Final Say
We hope you have enjoyed reading this Blog and must have gained all the knowledge regarding the V-Guard solar heater industry. So, without wasting any time, go ahead to buy a V-Guard water heater online at the best price/cost (solar geyser prices) from solarclue.com.